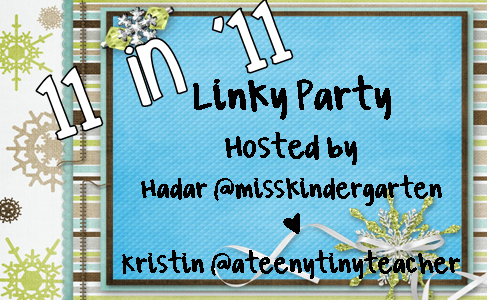 My 11 in '11
11. Favorite movie you watched:
This is a recent favorite obviously because it just came out! I read this book and was anticipating this movie and it did not disappoint in the least. It was a great book and movie which is hard to say most of the time.
10. Favorite TV series: True Blood
9. Favorite restaurant:
K Restaurant (wine bar) for fine dining i.e. special occasions and Bento Sushi for regular date nights. :)
8. Favorite new thing you tried:
Blogging! I started back in the spring when I just couldn't get enough of stalking other blogs and knew I wanted to share things in my own classroom!
7. Favorite gift you got:
My beautiful diamond necklace my bf gave me for Christmas. It was his mom's diamond and has special meaning. He put it into a simply elegant setting on a necklace for me and surprised me completely!
6. Favorite thing you pinned:
Ohh this is going to be hard...I actually have to look back at pins and there are just so many. I've made so many things for my house, parties, and classroom this year from Pinterest. I have also found inspiration for fun home workouts and style. But this has to be my favorite pin and I can't wait to make this in February for my darling first graders.
5. Favorite blog post:
Team meeting, my first students, and more of my classroom!
I can just feel the excitement of the new year and energy I have about teaching when reading that post. It helps me remember how hard I worked at the beginning of the year and how far I've already gone this year!
4. Best accomplishment:
Graduating from graduate school from University of Central Florida with a Master in Reading Education. It was so much hard work but well worth it all in the end!
Selling activities of TPT! I was so happy to start creating activities because I needed material for my enrichment group and I remember being so thrilled that someone else would want my products as well. I feel like this is my best accomplishment this year and hope to create even more great products for teachers in the 2012.
3. Favorite picture:
Costa Rica Vacation :) pure bliss
Spending time with my family in Austin, Texas.
2. Favorite memory:
My brother's wedding! It was such a joyful occasion and it was wonderful to be surrounded by family and friends.
Our families together!
My brother and I.
My bf and I.
1. Goal for 2012: To stay fit, work hard, be positive, take trips, laugh, love and live life to the fullest!