for coming up with such a cute idea!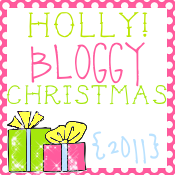 Here is what I got from
Melly
:
I now have an adorable clipboard for school and home! My mom was way jealous she wanted one as well...I know what to get her for her birthday now though! I got a great journal to write in, jingle bell earring to wear next holiday season, wonderful brightly colored sticky notes, and my favorite candy Sour Patch Kids! Also not showing because I already have it on my purse is Finders Key Purse monogramed with my last initial!
I loved Holly Bloggy Christmas this year and hope to continue this tradition!